A Compact 630mm/24" Wide Desktop Printer for professional results, offering up to 6 colors
The VJ-628 is MUTOH's smallest sign & display printer offering a great potential to startup businesses, small sign makers, department stores and quick print providers. Offering a media width of 630mm /24", the compact, user-friendly & cost-effective ValueJet 628 has been developed for a wide array of applications ranging from in-store printing, commercial print, signage and print-to-cut jobs.
Equipped with the latest generation micro piezo print head, this 8 channel desktop printer delivers high quality prints for indoor & outdoor applications. You can easily and efficiently create a variety of applications including stickers, decals, banners, indoor and outdoor signage
Features:
Print with the MUTOH original eco-solvent inks: Ultra 3A ink
Up to 6 colors; CMYK, Lc, Lm
Small footprint, table top or use with optional stand
Equipped the new temperature controlled heater (maximum setting: 45 degrees)
2 steps head height (1.2mm or 2.5mm)
Equipped with the automatic cutting function
All-in-one CD for easy one step installation
Smart Printing Technologies:
Applications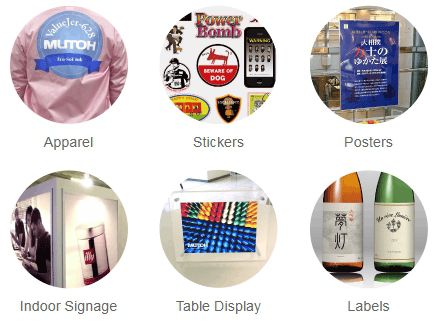 Specifications
Model Name
VJ-628
Print Technology
Drop-on-demand Micro Piezo Inkjet Technology
Print Head
1
Head Heights
Low:1.2mm / High: 2.5mm
Max. Media Width
630mm
Max. Print Width
620mm
Ink Type
Eco-solvent ink
Ink Colors
KCMY-4 colors, KCMY, Lc, Lm- 6 colors
Ink Volume
KCMY,Lc,Lm:220ml
KCMY,Lc,Lm:1000ml bag (Need dedicated adapters)
Print Resolutions
1440/1080/720dpi (12 modes as standard + 19 modes as custom**)
Interface
Ethernet (10BASE-T/100BASE-TX)
Media Measurements
φ150mm/ 2" & 3" / 9kg or less
Heater Control System
Platen-heater (45℃), OFF
Power Supply
AC 100-120 V / AC 200-240 V - 60/50 Hz
A-property Acoustic Power Level (Actual Measured Value)
58.5dB or less
Printer Accuracy Guaranteed Environment
Temperature: 20~30℃ Humidity: 40~60%RH (Non Condensing)
Power Consumption
Operating Status: 830W or less, Power-off: 1W or less
Machine Measurements
W 1190 x D 437.5 x H 365.6mm
Packing Size
Printer: W 1331 x D 559 x H 476mm, Weight: 36kg
Optional tand: W 755 x D 832 x H 235mm, Weight: 14kg
Printer Weight
Printer: 31.8kg Stand: 8.7kg (option)
Option
VJ06‐TUP10(10kg)
VJ628-STD
Spectrovue VM-10
**Custom modes are set by the RIP software. For the details, please contact your authorized dealer.