High-quality desktop direct-to-garment Printers, selectable 4 colors + white or 4 colors
The MUTOH's VJ-405GT desktop direct to garment printers are specifically targeted at fashion designers, promotional garment printers, online webshop businesses as well as screen printers. The VJ-405GT/404GT are suited for sampling, customised one-off prints such as short-run production of t-shirts, canvas bags, etc..
The VJ-405GT has CMYK + White ink on board - with a dedicated ink circulation system for the white - for the digital production of dark coloured and light coloured garments.
In line with our core philosophy to deliver products with technology proven to be faster, more reliable, more cost effective and more efficient, we incorporated our pioneering print automation technology into the VJ-405GT inkjet printers to bring you the best equipment for your application.
T-shirt printing fun starts with the MUTOH VJ-405GT!
Features
High Quality 4-Color/5color direct-to-garment printers
Small footprint, table top, fits easily into any print shop
MUTOH original garment ink with vibrant colors & excellent ink density
White ink circulation system integrated
Applications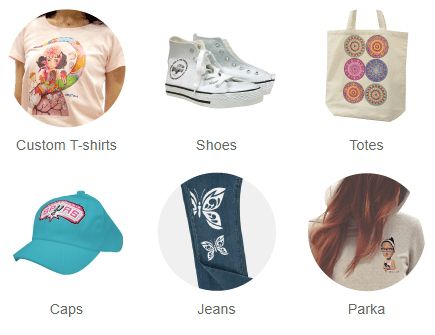 Mutoh Garment printers_full_version
Mutoh Garment printers_short_version
Specifications
Model Name
VJ-405GT
VJ-404GT
Printer Technology
Drop-on-demand Micro Piezo Inkjet Technology
Print Head
4
Head Height Adjustment
15mm
Max. Media Size
428 x 600 mm
Max. Print Size
420 x 576 mm
Ink Type
Garment ink
Ink Colors
KCMY+white* -5 colors
KCMY - 4 colors
Ink Volume
200ml
Print Resolutions
600 x 600 dpi, 600 x 1200 dpi, 1200 x 1200 dpi
Print Tables - Sizes
Table L : 405 x 585 mm (Printable : 380 x 560 mm)
Table M : 335 x 485 mm (Printable : 310 x 460 mm) **
Table S : 255 x 355 mm (Printable : 230 x 330 mm)
Acquired Standard(EMC)
VCCI(ClassA)、FCC(ClassA)、Canada ICES-003
Safety Standard
MET、CE、CB Report
Environmental Standard
Compliant with Mutoh Green Procurement Standard and RoHS directive
Connectivity
LAN(10/100BASE-T)
Power Supply
AC 100-120V - 60/50 Hz
A-property Acoustic Power Level (Actual Measured Value)
58.2dB or less
Printer Accuracy Guaranteed Environment
Temperature: 22~30℃ Humidity: 40~60%RH (Non Condensing)
Power Consumption
Operating Status: 130W or less, In standby: 29W or less
Machine Measurements
W817 x D1425 x H488mm
Packing Size
Printer: W1470 x D1010 x H720mm, Weight: 106kg
Printer Weight
83kg
* To prevent the sedimentation, agitating white ink in the cartridge are required once everyday before printing.