Editorial - ROWE Scan 450i
VISION ACCOMPLISHED!
ROWE has fulfilled a vision with its new ROWE Scan 450i:
Development of a new class of high-tech scanners "Made in Germany" with groundbreaking innovations.
The ROWE Scan 450i has three models with scanning widths of 24", 36" and 44". Standard equipment for all large format scanners is SuperSpeed USB 3.0 + RES, ROWE ScanCloud and ROWE ScanMatrix+ which is a unique technology worldwide. Your advantage: Scanning with the patented process ROWE DYNAMIC STITCHING, fully automatic transformation of originals with poor contrast into perfect scans due to the image improvement technology ROWE PRO LOGIC and brilliant, natural colors as a result of ROWE SELECTED TRUE LIGHT.
Also unique: A new process that makes it possible to scan and at the same time recognise the width of the original – all in one process, as well as independently recognising damaged or ripped corners on the originals. The result is excellent productivity whilst at the same time protecting the documents.
Of particular importance to ROWE customers – top results regarding modularity, cost and environment. Thanks to the patented ROWE SAFE DRIVE technology the scan glass has a life-cycle up to 500% longer than standard wide-format scanners. A power consumption of less than 0.4% in energy saving mode also protects the environment.
Experience the fascination of ROWE. Simply make an appointment with the authorised dealer in your area
Model Overview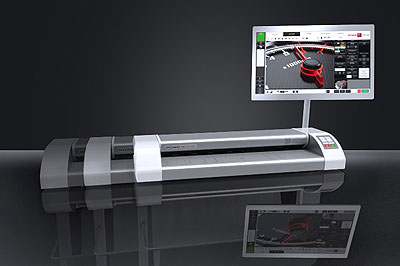 3 large format models
24", 36" and 44"
Professional scanner up to A0
Technology protected by patents
SuperSpeed USB 3.0 + RES
2400 x 1200 dpi optical resolution
Cloud enabled
MFP Inkjet large format
Extend your existing inkjet printer with the ROWE Scan 450i for the clever MFP solution.
ROWE ecoPrint MFP large format 
Consisting of ROWE ecoPrintlarge format printer with FULL HD USER‐INTERFACE and ROWE Scan 450i ‐ 36"
ROWE ScanCloud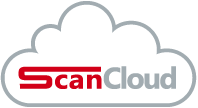 Easy connection to your cloud
ROWE ScanCloud technology links the ROWE Scan 450i large format scanner with your cloud provider. Simply scan in the QR code e.g. by smartphone, select your cloud as target, start the scan and the file will be immediately transferred to your cloud folder. Simply smart and safe.
The ROWE ScanCloud is independent of your cloud provider.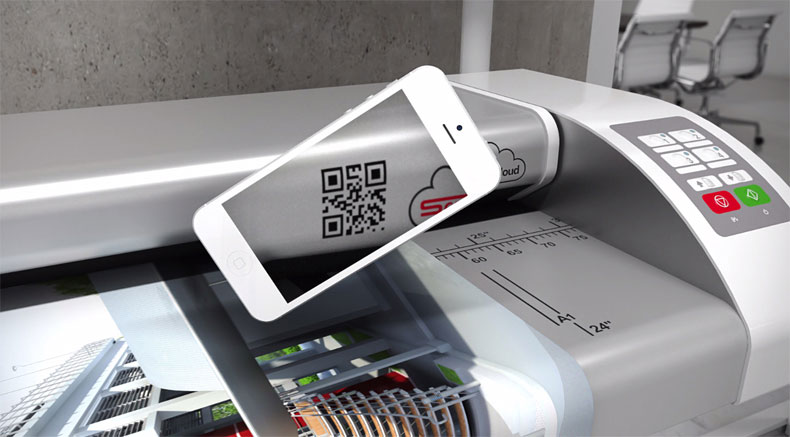 Scan quality

UNIQUE, PATENTED TECHNOLOGY
FOR THE BEST SCAN QUALITY.
ROWE ScanMatrix+ consists of several digital core components. A new scan quality dimension is achieved by their interaction. Simply superior. Simply ROWE.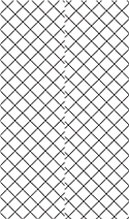 Standard scanner
Rowe Scan 450i
ROWE DYNAMIC STITCHING (RDS)
ROWE engineers have achieved a groundbreaking innovation: excellent scans, even when the document is folded or thin. The patented ROWE DYNAMIC STITCHING continuously controls the scanned document data of each sensor and sets them together in real time. Any deviations that may occur are corrected automatically. Compare the difference!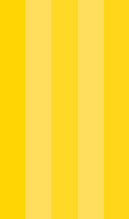 Standard scanner
Rowe Scan 450i
ROWE SELECTED TRUE LIGHT
The Scan Sensor Technology used for the first time in the ROWE Scan 450i means the lighting of the originals is exceptionally homogenous. This is achieved by the optimal alignment of the lighting angle to the sensor. Together with the ROWE double lens technology, this produces excellent scanning results.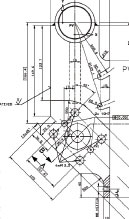 Standard scanner
Rowe Scan 450i
ROWE PRO LOGIC
... is the superior document enhancement technology from ROWE for copying and scanning with the "green button". It ensures that imperfect originals, even those with poor contrast, are turned into perfect scans at the first attempt. This simple job with the "green button" saves valuable time and test scans. Faulty copies are a Standard scanner ROWE Scan 450i thing of the past..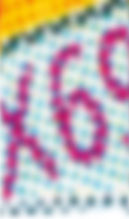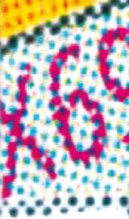 Standard scanner
Rowe Scan 450i
2.400 x 1.200dpi
The optical resolution of 2400 x 1200 dpi (maximum resolution 9600 dpi) means the smallest details are visible. Your competitive edge in large format scanning.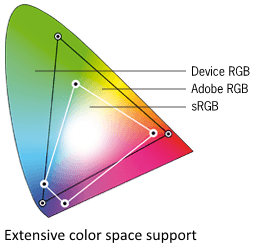 Capture superb colors
The ROWE Scan 450i supports not only the standard sRGB color space but also user defined color spaces like Adobe RGB or Device RGB.
PRODUCTIVITY
PRODUCTIVITY. EXCELLENT.
The heart of the new ROWE Scan 450i is company technology protected by patents. 
It's the base for superior productivity at scanning. Your competitive edge.
Ergonomics
FIRST CLASS ERGONOMICS. IN EVERY DETAIL
ROWE sets the benchmark in ergonomics.Once again.
Document Return Guides
Perfect handling of keyboard and mouse
Scan-to: Net, USB, Copy, E-Mail and Cloud
The monitor can be turned and swivelled
Scanning face-up
Active output
Driven transport rollers at the rear guarantee safe 
output of the document. No jam in the scanner.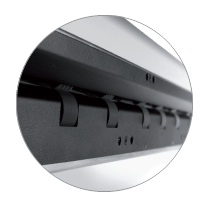 Simple replacement of the scan glass
Removal of the scan glass is carried out without tools – simply, quickly and absolutely ergonomically! It's done like this: open the top part of the scanner, press the scan glass down with your thumb and remove it – finished. Simple and ergonomical – typical ROWE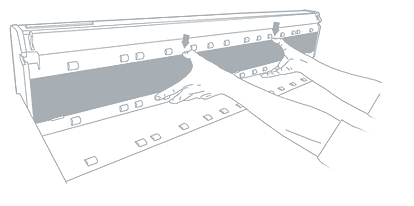 ROWE automates your workflow
4 Hot Keys on the control panel of the ROWE Scan 450i automate your workflow. A variety of functions can be bundled – to meet requirements – and called up at the press of a button. Visionary ROWE: There are no limits in the allocation of the Hot Keys. Not only individual but all functions of the ROWE ScanManager can be allocated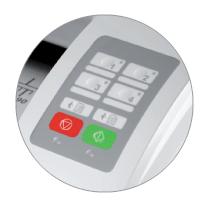 Multifunctional solutions
THE FUTURE IS SAFE. ROWE Scan 450i MFP.
Extend your printer to a MFP solution without compromise. 
The ROWE Scan 450i MFP is compatible with all popular large format printers or plotters.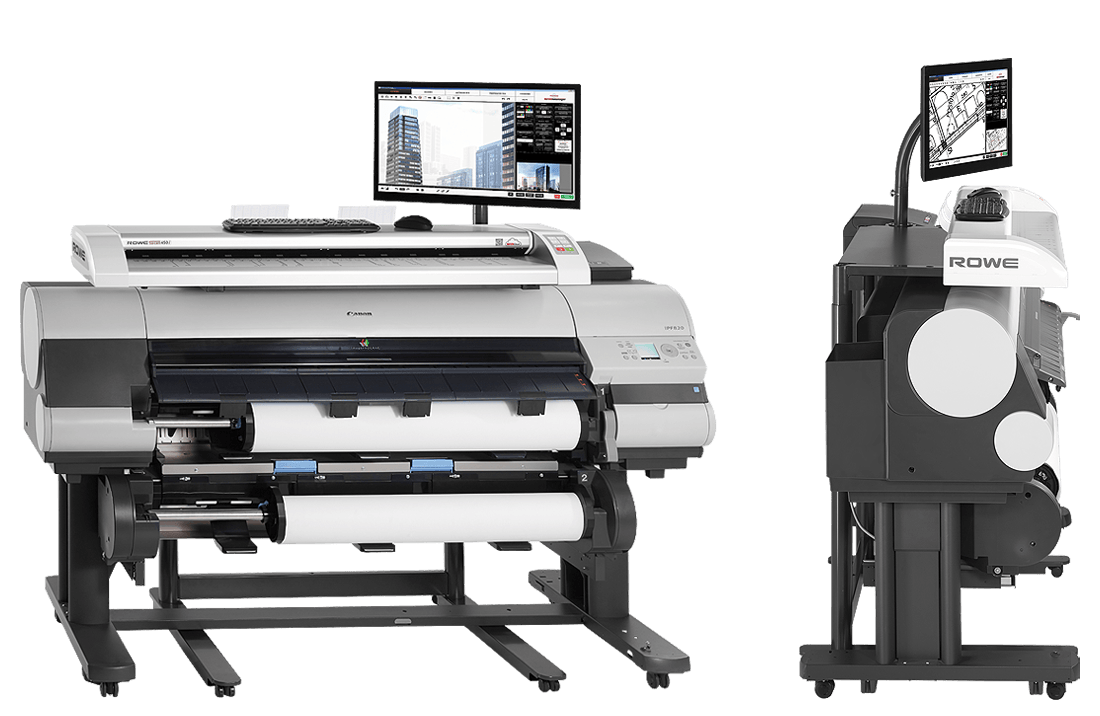 THE OPTIMAL INVESTMENT
The ROWE Scan 450i has been developed for several printer generations with the interface SuperSpeed USB 3.0 as standard as well as being manufactured in especially high quality materials.
3 models with different scan widths
scanner 24", scanner 36" and scnnaer 44"
ROWE ScanManager
Intuitive and modular scan software made by ROWE
Ergonomics made by ROWE
The ROWE Scan 450i also provides an optimal work surface for keyboard and mouse.
Optical resolution scanner 2400 x 1200 dpi
Scanning without length
In the smallest place.
Scanning, printing & copying
Apps for ROWE Scan 450i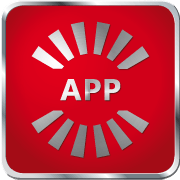 EXPERIENCE A NEW ERA OF DIGITAL FUNCTIONALITY.
Discover a comprehensive range of applications in the new ROWE APP CENTER. Operation of the ROWE scan software is absolutely intuitive due to its user-friendly design and standard platform. ROWE has developed all applications especially for optimization of your business processes. You decide about the configuration. A new world, called up at the touch of a button
Costs
SUPERIOR SECURE INVESTMENT AND MODULARITY.
Minimal operating costs and exceptional durability are especially important to us.
Especially high quality materials and exceptional workmanship guarantee exceptional durability
Lowest scan glass wear – maximum protection for the documents: With the new ROWE SAFE
DRIVE the ROWE Scan 450i achieves up to 500% longer life-cycle of the scan glass compared to
standard scanners.
Standard scanner with hardened
scan glass
 
ROWE Scan 450i with hardened
scan glass and
ROWE SAFE DRIVE
Environment
Our technology "Made in Germany" is subject to strict environmental regulations.
Whisper-quiet means a pleasant working atmosphere 
Energy Star The ROWE Scan 450i large format scanner exceeds the requirements of the Energy Star. 
Quality seals and certificates RoHS, ENERGY STAR, CE, CCC, UL, cUL, CB, FCC Part 15 Class B, EAC, BSMI, BIS