A 1625mm/64" wide Hybrid LED-UV Printer with dual head/dual lamp for real production
The VJ-1638UH is MUTOH's first ever dual head LED-UV printer delivering increased print & cure performance. 1625 mm (64") wide, the VJ-1638UH is all about versatility; it is the ideal tool to expand your business with a wide range of commercial print applications. The printer accommodates 1625 mm (64") roll media up to 30 kg as well as rigid boards up to 1625 mm x 1200 mm (64" x 47") up to 15mm thick and up to 15 kg.
For automatic roll up of prints, the VJ-1638UH can be equipped with a 30 kg, 80 kg or 100 kg motorized take-up system.
This printer will enable you to maximize your creativity! Next to CMYK, the VJ-1638UH also can be set-up with varnish and white to handle transparent or non-white substrates without losing color power or to create special print effects and multi-layer printing for prints with high added value.
The VJ-1638UH will produce high quality graphics for short viewing distances such as trade show graphics, POP & retail signage, backlit banners, individualised wallpaper & interior decoration, small lot packaging prototypes, banners, posters, etc.
Features:
1625mm/64" LED-UV hybrid printer
MUTOH's LED-UV ink
CMYK + White and Varnish ink capability
White ink circulation system integrated
Rigid front and rear tables(option)
Smart Printing Technologies:
Applications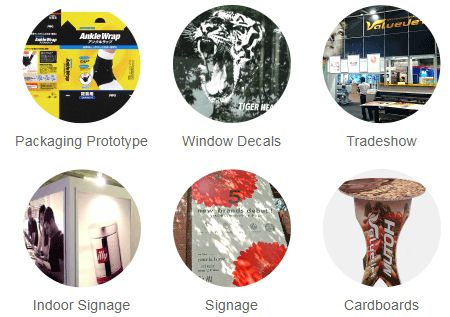 Specifications
Model Name
VJ-1638UH
Printer Technology
Drop-on-demand Micro Piezo Inkjet Technology
Print Head
2 (staggered setup)
Head Heights
Automatic
Max. Media Width
1625mm
Max. Print Width
1615mm
Max. Media Thickness
15mm
Roll Media Measurements*
φ150mm/ 2" & 3" / 30kg or less
Rigid Media Measurements
Maximum length: 1200mm, Minimum length: 200mm / 15kg or less
Media Drying System
Two long-life LED-UV curing lamps
Ink Type
LED-UV ink
Ink Colors
KCMY - 4 colors x 2, KCMY, white+ varnish
Ink Volume
KCMY, varnish: 220ml cartridge/ 800ml bag (Need dedicated adapters)
White: 220ml cartridge/ 500ml bag (Need dedicated adapters).
Print Resolutions
1440/1080/720dpi (8 modes as standard + 18 modes as custom**)
Interface
Ethernet 1000BASE-T
Heater Control System
N/A
Power Supply
AC 100-240V - 60/50 Hz
A-property Acoustic Power Level (Actual Measured Value)
73.46dB or less
Printer Accuracy Guaranteed Environment
Temperature: 22~30℃ Humidity: 40~60%RH (Non Condensing)
Power Consumption
Operating Status: 770W or less, In standby: 52W or less
Machine Measurements
W 2983 x D 818 x H 1261mm
Machine Measurements with media feeding table (option)
W 2983 x D 1261 x H 1261mm
Packing Size
Printer: W 3165 x D 1150 x H 851mm, Weight: 260kg
Media feeding table F/R: W 1770 x D 1160 x H 215mm, Weight: 57kg
Stand: W 2462 x D 395 x H 250mm, Weight: 42kg
Take-up unit: W 2555 x D 316 x H 286mm, Weight: 13.4kg
Main Unit Weight
Printer: 160kg Stand: 37kg Table: 43kg Take-up system: 18kg
Option
Take-up system VJ-16/19 TUP30 (30kg)
Media feeding table for rigid media
Media support
High capacity ink pack adapter VJ-HCIPADPT-UV8
Media retainer
*Due to the removal of the flange joint, the 2-inch media core can be adjusted; however, do not use the solid 2-inch core media.
**Custom modes are set by the RIP software. For the details, please contact your authorized dealer.