A Compact 630mm/24" Wide Desktop Printer with 8 colors including white and metallic inks, the possibilities for creative output are endless
The VJ-628X is MUTOH's smallest sign & display printer offering a great potential to startup businesses, small sign makers, department stores and quick print providers. It is an economical eco-solvent printer which is able to fit on a desktop in any print shop, this A1-sized /24" printer will make a valuable addition to your workflow.
And now with three ink configurations offering up to eight colors including CMYK, Lc, Lm, white and metallic inks, the possibilities for creative output are endless. Print high quality 1440 dpi output for photographic output or create custom banners, indoor and outdoor signs or custom labels and stickers for specialty, retail, industrial or commercial applications.
Features:
Print with the MUTOH original eco-solvent inks: Ultra 3A ink
Incorporate the ink circulation systems in white and metallic channels
Small footprint, table top or use with optional stand
Enable to operate the printer remotely
Enable to operate the printer remotely
Equipped the new temperature controlled heater (maximum setting: 45 degrees)
2 steps head height (1.2mm or 2.5mm)
Equipped the automatic cutting function
All-in-one CD for easy one step installation
Smart Printing Technologies:
Applications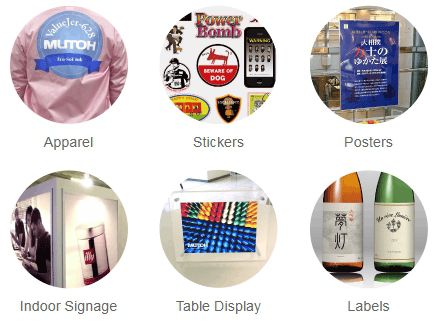 Specifications
Model Name
VJ-628X
Print Technology
Drop-on-demand Micro Piezo Inkjet Technology
Print Head
1
Head Heights
Low:1.2mm / High: 2.5mm
Max. Media Width
630mm
Max. Print Width
620mm
Ink Type
Eco-solvent ink
Ink Colors
KCMY-4 colors, KCMY, Lc, Lm, White and Metallic- 8 colors
Ink Volume
KCMY,Lc,Lm,White and Metallic:220ml
KCMY,Lc,Lm:1000ml bag (Need dedicated adapters)
Print Resolutions
1440/1080/720dpi (12 modes as standard + 19 modes as custom**)
Interface
Ethernet (10BASE-T/100BASE-TX)
Media Measurements
φ150mm/ 2" & 3" / 9kg or less
Heater Control System
Platen-heater (45℃), OFF
Power Supply
AC 100-120 V / AC 200-240 V - 60/50 Hz
A-property Acoustic Power Level (Actual Measured Value)
58.5dB or less
Printer Accuracy Guaranteed Environment
Temperature: 20~30℃ Humidity: 40~60%RH (Non Condensing)
Power Consumption
Operating Status: 830W or less, Power-off: 1W or less
Machine Measurements
W 1190 x D 437.5 x H 365.6mm
Packing Size
Printer: W 1331 x D 559 x H 476mm, Weight: 36kg
Optional stand: W 755 x D 832 x H 235mm, Weight: 14kg
Printer Weight
Printer: 31.8kg Stand: 8.7kg (option)
Option
VJ06‐TUP10(10kg)
VJ628-STD
Spectrovue VM-10
**Custom modes are set by the RIP software. For the details, please contact your authorized dealer.