What is the ARMS?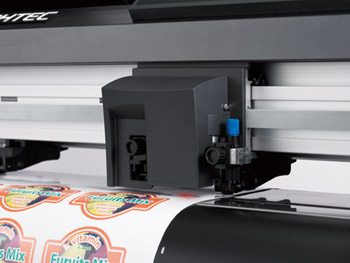 The AXIS ALIGNMENT is a very important function that should be used when you intend to cut pre-printed media, such as stickers or decals.
The AXIS ALIGNMENT function enables to electrically adjust the contour cutting data to align with the printed image using reference marks.
ARMS is an abbreviation for Advanced Registration Mark Sensing system, which uses sensors to detect registration marks and performs the AXIS ALIGNMENT. It is installed in recent cutting plotter of the Graphtec.
It enables to significantly improve productivity in the Print & Cut applications that makes stickers or decals.
What is the registration mark?
The registration marks is a reference mark for the AXIS ALIGNMENT that makes precisely aligning the actual cutting line with the printed image on media. It is necessary that marks specified by GRAPTEC are printed on the media to use the ARMS.
Available functions by model of cutting plotter
Function of ARMS varies by model and its condition. Please refer to the following list.
(*)

X : Available.

(*)

This function is supported when the cutter has the specified firmware.

(*1)

Cutting Master 4, Graphtec Pro Studio or Graphtec Pro Studio Plus can control this function with only FCX2000.

(*2)

The Roman type is available with FCX2000. Cutting Master 4 can control this function with only FCX2000.